Some countries are like a 40 degree hot tub with umbrella cocktails, essential bath additives and preheated terry towels on the edge of the pool. You just have to sit back and enjoy – the end. And then there are countries that are more like a Kneipp basin with an ice cube shower. Welcome to the Czech Republic.
In any case, "open arms" would not be the first thing that occurred to me about the past week.
At our campsite near Mikulov, in retrospect, I'm not even sure whether it really was a campsite. The looks and reactions of the employees and fellow campers around us looked more like we had just crashed a private garden party. Have you ever driven a motorhome to an unfamiliar property, parked between the pergola and cherry laurel and then emptied the chemical toilet into the hedge? Neither do I, but now I can at least imagine what looks you get there.
The biggest problem is of course the language. I don't speak any Czech and the Czechs speak little English. After all: "Hello" means "Ahoj", I've now learned. But you can forget that right away, because nobody greets you here. At least not before the fifth Becherovka. For me, as a celibate greeter, it was a very irritating experience. Nine out of ten greeted Czechs look away in irritation and the tenth says: "Drive your mobile home from my property immediately".
Incidentally, that doesn't mean that the people here are unfriendly. On the contrary. Once you've caught them in your net and got them to talk, they really do anything to help you. They even run after you to see if you're on the right track. (Which in Brno didn't stop us from getting off too early, then driving past the city and finally waiting a long hour for the next train back. Instead of "Ahoj", I should perhaps have learned "Hauptbahnhof" in Czech. )
Everything just didn't go as smoothly as in other countries on our trip. For example, I am currently sitting next to a huge monastery building in Znojmo, according to which Bavarian monument conservationists would lick all ten fingers. Here the thing is falling apart, the plaster is peeling off and the wind is whistling through the broken windows. Some houses are not doing better. This is particularly noticeable when you come straight from the well-decorated dollhouse of Styria. The people here simply have no money for that. When a bakery saleswoman tells you that she worked as a teacher for 48 years and now, at 70, has three jobs because her 300 euro pension is simply not enough to survive, you can imagine that there is no money for "Das Depot" remains.
Nevertheless, there is of course a lot to see here: castles, chateaux, river valleys, Europe's largest park (Lednice) and the city center of Brno (when you get there). And there is beer. Very, very good beer. In decent glasses. And eat. Mostly meat with meat on meat-filled potato dumplings. A Fit for Fun editor dies with every bite.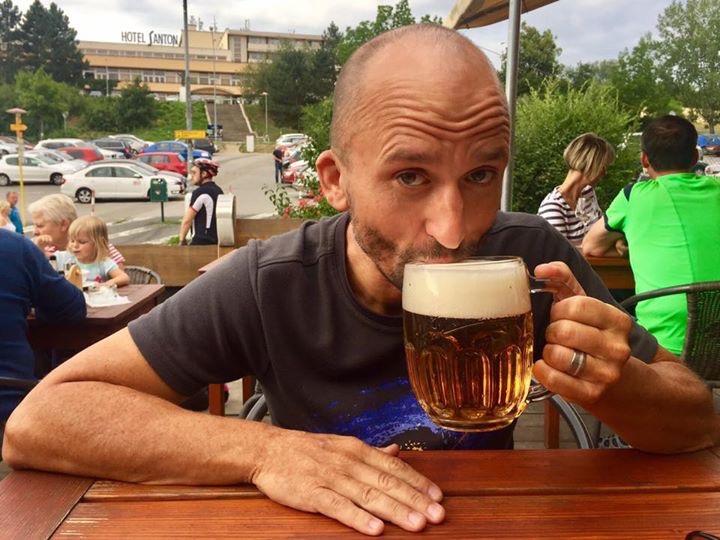 And you can learn something too. Example: On July 1st, we were just in the wine-growing town of Pavlov, it was "Children's Day" in the Czech Republic. But you didn't notice anything about it far and wide – except in the local wine shop. All the sommeliers and employees were wearing brightly colored make-up and loud children's music was playing in the background. In a wine shop. I think so: only when a badly made-up Czech vampire sommelier explains the advantages of the Moravian Welschriesling to you while his colleague blows sad soap bubbles and Karel Gott sings "Maya the Bee" in the background, you really understand what "kafkaesk" is. means.
PS: Next stop: Bohemia (Cesky Krumlov and Budweis). But a little different. More on this in part 11 of the #EuropeTour.